L'École de Simili-
2014, FR/AT, HD video, 16:9, colour, stereo, 29 min
Paris in the year 2030, the city is deserted. A handful of nomads stranded here meet up via a Craigslist ad and try to create a common space through language. They form a self-organized school (The Simili-School) in which they study the slang of the teenagers from the suburbs (Argot des Jeunes de la Cite) and by doing so also become closer as a group. 'The text' however, takes on a life of its own – and starts to unsettle their newly established 'home'
L' École de Simili-
relates different (post-)migrant realities to each other and deals with questions of how one can appropriate cultural and linguistic identity. It is a semi-fictional film that was realized in an open collaboration with four non-professional actors and a group of teenagers who participated in the scriptwriting process.


"Hovering between documentary and fiction, this film follows the activities of a group of young middle class drifters who decide to set up a slang school in the suburbs of Paris. The quest to master the language of the street turns into a quest for identity through physical exchange and intimacy. Of different origins and backgrounds, the group becomes a microcosm of contemporary society - dislocated, alienated, and desperately searching for meaning through a relationship with the Other."

(Kim Knowles, Edinburgh International Film Festival)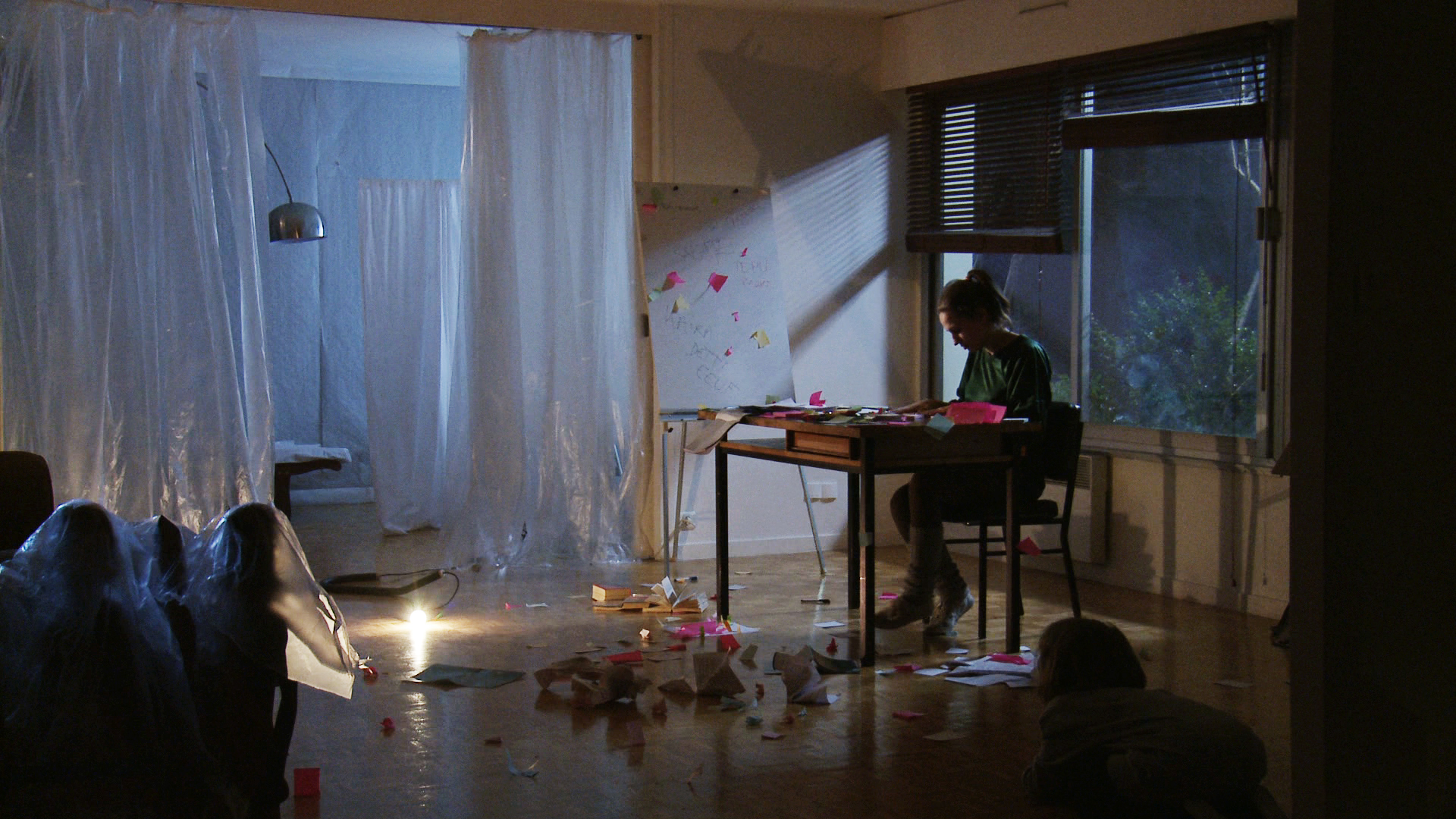 Trailer




Credits Director, writer, editor, producer:

Marlies Pöschl

Protagonists:

Joanna Oleradzka, Jairo Marulanda, Aldona Gritzmann, Ambra Dell'Aversano, Mayanaya, Nilton Martins, Luli Leblond Antoine, Frauke Steiner

Writing workshop participants:

Jordan Falamanta, Nicolas Szmytko, Julien Eugene, Aryliani Neylane, Joan Edmond, Mohamed Khachai, Sylvain Proy, Jordan Abauzit, Maeva Duchateua, Gwendey Cecrom

Assistant director, assistant Producer

: Sophie Lee Pierozzi

Director of photography:

Romain Carcanade

2nd camera

: Sonia Charoki

Sound engineer:

Sébastien Linsolas

Sound editing and mix:

Erwan Le Mao

Music:

Wealth

Art Direction:

Malika Ouedraogo

Costume Design:

Deneth Piumakshi

Set Photography:

Nadine Fraczkowski


Presentations

Screenings:
Jeux de l'amour et du hasard, Auditorium des Muses, Breuillet, FR, 2018
Jeux de l'amour et du hasard, Ciné 220, Paris, FR, 2018
Edinburgh International Film Festival, UK, 2014
Berlin Short Film Festival, DE, 2014
Outcasting 4th wall festival, UK, 2014
Les centres d'art font leur cinéma, Nuit Blanche, Paris, FR, 2014

Exhibitions:
Parallaxe 1, Susanna Flock und Marlies Pöschl, Kunstraum Memphis, Linz, AT, 2016
Away, a project on residencies, Post- und Telegrafenamt, Vienna, AT, 2016
Diploma projects exhibition, Xhibit, Academy of Fine Arts Vienna, AT, 2014
Experience Economy. Salzburger Kunstverein, AT, 2014



Installation
2-channel installation, dimensions variable



Installation view: Experience Economy. Salzburger Kunstverein, AT, 2014
Photo: Andrew Phelps



Installation view: Experience Economy. Salzburger Kunstverein, AT, 2014
Photo: Andrew Phelps



Contact
Marlies Pöschl
Studio (by appointment)
1020 Vienna, AT
kontakt@marliespoeschl.net


www.marliespoeschl.net



Feel free to contact me for copies of my works for preview or research purposes.
Copyright
all images © their authors. The art work of Marlies Pöschl and the images of work shown on this website are subject to copyright. The copyright of all the work remains with the artist.
+ subscribe to the newsletter here